[
ASIA SPEAKS CHAPTER INDONESIA
]
—
CALL FOR ESSAYS
 —
We invite all Asian Youth (between the ages of 17 to 25 years old) from all 10 ASEAN Member and ASIA countries to participate in Asia Speaks to be change-makers by providing a platform to learn, contribute, and advocate solutions to solve problems in food security and empowering youth across Asia.
Theme : Food Security & Youth Empowerment Across ASIA
Categories :
1. Volunteering and Social enterprises
2. Zero hunger and Building climate resilience for food security and nutrition
3. Managing sustainable food security and promote sustainable agriculture
Important Dates :
Deadline for registration and Essay submission: February 18th 2019
Announcement of Essay Acceptence : February , 20th 2019
Presentation and Seminar on Asia Speaks : February, 28th 2019
 Venue:
Andi Hakim Nasution Building, IPB University, Indonesia
Registration (free)
Register yourself at bit.ly/ASCI2019 do not hesitate to contact us if you require any further information.

Further Information :

Mrs. Stevia Septiani
steviaseptiani@apps.ipb.ac.id
08111178819

Mr. IIlhamnurrahman Faiz
Faiz_131298@apps.ipb.ac.id
08131355668
Thank You.
________________________
Centre of Management 2019
#COM@2019
Line : @cmx6664u
Instagram : @centreofmanagement_ipb
Twitter : @CentreOfMGT
Web : coma.lk.ipb.ac.id
E-mail : centreofmanagementipb@gmail.com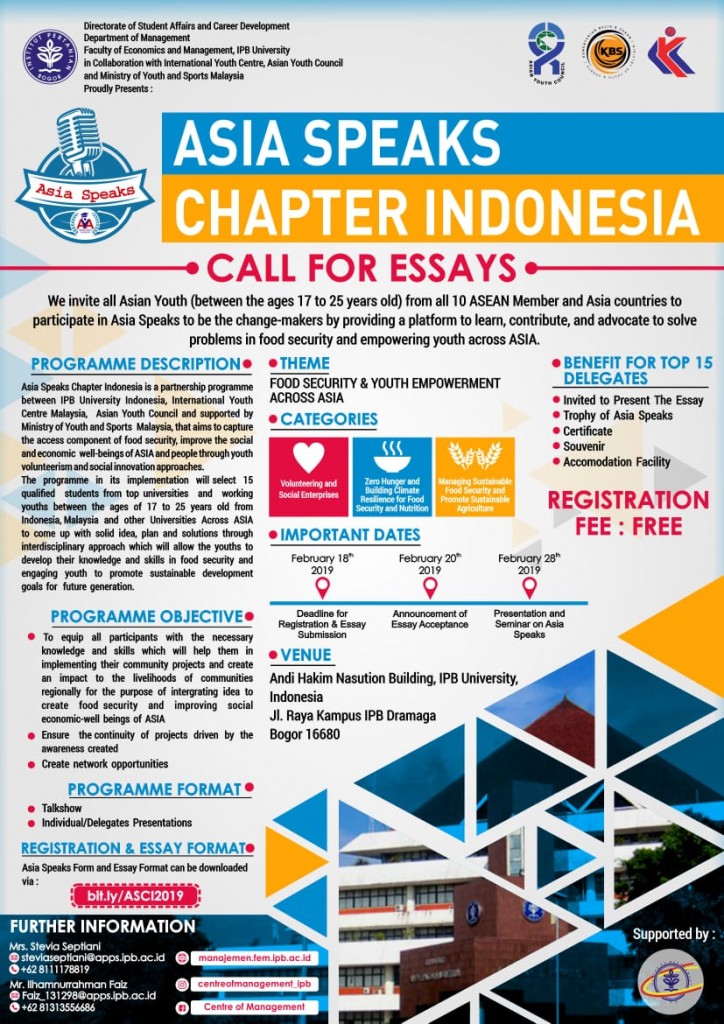 http://manajemen.fem.ipb.ac.id/asia-speak-chapter-indonesia/