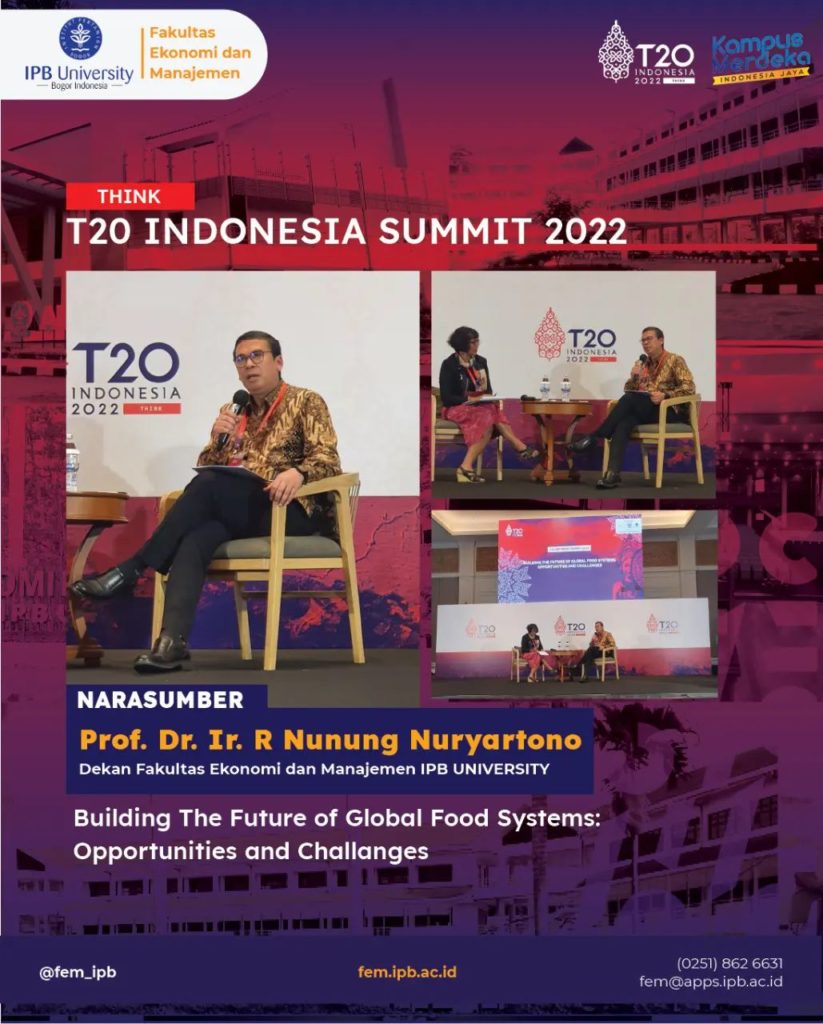 T20 Indonesia Summit 2022, Senin, 5 September 2022 pukul 13.30 – 15.00 WIB secara luring dibuka oleh Prof. Dr. Arif Satria, Rektor IPB University, dan Hanneke Faber, Nutrition President Unilever melalui Welcome Remarks dengan Prof. Dr. Damayanti Buchori (IPB University) sebagai Chair, Task Force 4 Lead Co-Chair T20 Indonesia.

Prof. Dr. Ir. R Nunung Nuryartono, Dekan Fakultas Ekonomi dan Manajemen IPB University, bersama sejumlah panelis dari berbagai negara yaitu Maximo Torero (Chief Economist, FAO), Corinna Hawkes (Director Centre of Food Policy, University of London), Elan Satriawan (Task Force 5 Co-Chair, T20 Indonesia), Nurdiana Darus (Head of Sustainability and Corporate Affairs, Unilever Indonesia), dan Sirojuddin Arif (Research Associate, SMERU Research Institute) telah berkontribusi sebagai narasumber dalam T20 Indonesia Summit 2022 dengan tema "Building The Future of Global Food Systems: Opportunities and Challanges'. 

T20 Indonesia Summit 2022, ditutup melalui Closing Remarks oleh Riatul Mariatul Qibthiyyah, Executive Co-Chair, T20 Indonesia.

FEM IPB University melalui T20 Indonesia Summit 2022 berkontribusi gagasan dan pikiran bagi pembangunan sistem pangan Indonesia secara khusus dan dunia secara umumnya.