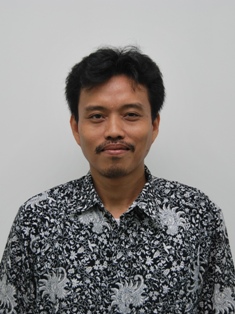 Burhanuddin
Department: Lecturer
Bogor Agricultural University
Office: Faculty of Economics and Management Bogor Agricultural University Jl. Kamper, Kampus IPB Darmaga-Bogor – West Java 16680
Phone/Fax: +62 251-8626602 / 8626631
Email: burhan<at>ipb.ac.id
website: burhan.staff.ipb.ac.id
Currently: in Bogor
---
Expertise:
Teaching
Livestock Policy,
Introduction to Management,
Introduction to Business,
Business International,
Business Leadership,
Business Information System,
Introduction to Entrepreneurship,
Entrepreneurship.
Education
M.M. Magister Management Agribusiness,  Bogor Agricultural University, (1997)
Ir.(B.Sc equivalent) Faculty of Animal Science, Bogor Agricultural University, Indonesia (1992)
Research
Community Satisfaction Index (CSI) City of Bogor: District and Village (2008)
Handling Coordination of Economic Impact of Avian Flu Outbreak (2007)
Analysis and Mapping Marketing and Livestock Production in Riau Province (2007)
National dairy Agribusiness Review (2007)
Community Satisfaction Index (CSI) City of Bogor: IMB services, ID card, Health, and Water (2007)
Design Development of Agribusiness Dairy Cattle South Bandung in West Java (2006)
Grand Strategy for Development of Goat-Sheep (2006)
Assessment Against Public Opinion Research and Development of Agriculture (2006)
Assessment Activities In Implementing The School Readiness Level Of The Education Curriculum (KTSP) (2006)
Prototype Formulation of Local Regulation of Financial Management (2006)
Masterplan Development of Livestock Husbandry (2006)
Fostering self-reliance Joint Business Group (KUB) in the Village Development Programme Patronage (2005)
Evaluate success of BDS as Consultant Role In SME Development Center (2004)
Preparation of community development models: the decentralization of development in the district based cianjur(2004)
Integrated regional planning through community participation in the nine islands, south Sulawesi (2003)
Environment Arrangement at Nine Island Sea Area of South Sulawesi (2003)
Package of Assessment of Information, Education and Communication (IEC) for Empowerment of Small Farmers(2002)
Design of Horticultural Agribusiness Development (2002)
Socio-Economic Studies on RR-Corn in Indonesia (2002)
Evaluation of Publication and Broadcasting System (2002)
Cattle Beef Development (Special Program in South Sumatera) (2002)
Husbandry Area Model Development Formulation (2000)
Identification of Study Club Model Agribusiness (2000)
Ecosystem Corrected Planning with community Participatory at Sembilan Island, South Sulawesi (2001)
Formulation of Community Development Model: Area Development Base in Decentralization of Cianjur District(2001)
Environment Arrangement Sea Area at Sembilan Island of South Sulawesi (2001)
Arrangement of Agroindustry Map (1999)
Central Production Regional of Aceh Province (1999)
Import Substitution Analysis of Husbandry Product (1999)
A Training Need Assessment for the Transmigrants (1998)
Supporting the Establishment of Rural Financial Institution to Enhance Hill-slope Upland Farming and Business System (Stage 3) (1998)
Operational Strategy and General Policy of Agriculture Development of Industry Civilization on REPELITA VII.(1997)
Cooperative Model of Empowering the Group of Public Farm Management of Broiler in Indramayu, Majalengka and Kuningan (1997)
Formulation of Agriculture Commodity Distribution Map (1997)
Supporting the Establishment of Rural Financial Institution to Enhance Hill-slope Upland Farming and Business System (Stage 2) (1997)
Supporting the Establishment of Rural Financial Institution to Enhance Hill-slope Upland Farming and Business System (Stage 1) (1996)
Monitoring the Content of Media in Entrepreneurship Development (1996)
Agribusiness Information Development System. (1995)
Analysis of Broiler and DOC Business in West Java and DKI Jakarta (1995)
Study in Supporting Constitution and Cooperative Development Perception. (1994)
CRS Livestock Credit Project Evaluation. (1993)
Integrated Transmigration Regional Area Development and Development Model Activity and Development Center (DC) Evaluation. (1993)
Relationship between Farmer Participation and Farmer Social Stratification in the Communication Network in Four District in Majalengka West, Java. (1992)
Study in Role of Communication Media in Adoption of  Broiler Intensification Innovative in West Java (1992)
Study in Lacking Factors of Small Ruminant Production system Development in West Java. (1991)
Identification of Social Economy Factors of Cattle Beef Productivity in Cariu and Jonggol, Bogor (1991)
Inserting Agriculture Information in Radio Entertainment Show in Citanduy, West Java. (1988)
Training
Follow up Tailor Made Training "Practical Base Teaching", IPB Bogor (2009)
Tailor Made Training "Marketing Services", Maastricht Netherland dan Witsenhauzen Germany (2009)
Building a Successful At Work Full Time Through Transformation Mindset And Behavior, at Ciloto (2008)
Entrepreneurial Training, Computer Applications and Cooperatives: "Improving Quality and Independence Needs Based Graduate Labour Market", Syiah Kuala University in Banda Aceh (2008)
Accompanying the training briefing LM3, Bandung (2006)
Workshops and briefing partners Villages Village Community Empowerment Team, Executive Body of Students, IPB (2004)
Proposal Preparation Training for Young Lecturer, IPB (2004)
Insights Discovery Day, Insights Training and Development Ltd, Jakarta (2004)
Short training "Excellent Communication", IPB and Quality Improvement Project Part of Human Resources, Director General of Higher Education (2003)
Training Workshop on Education Quality Assurance System, IPB (2003)
"Second Tutor's Training In Data Management For Rural Development (DMRD) Distance Education Course" in Jakarta, SEARCA and SEAMOLEC (2002)
Training Methodology and Management at the University of Indonesia (1998)
Marketing Management Instructor Training for Farmers and Traders as well as Cooperative Members in Sukabumi, the National Agribusiness (1997)
Instructor in Training Analysis for Agribusiness Financing Bank Negara Indonesia Candidate Analyst 46, in Jakarta, Bandung and Surabaya (1996)
Publications
Proposal and Thesis Writing Guide, Department of Agribusiness FEM IPB, (2008)
Journal: Analysis of Preferences And Patterns In Buffalo Meat Consumption Consumer Household In Pandeglang, Media Journal of Animal Science and Technology, Vol. 25, No.1, April 2002, ISSN: 0126-0472, p.. 1 (2002)
Journal: Implementation of Quality Function Deploymen In manjemen Quality Improvement (A Case Study on Milk Treatment KPBS Pangalengan, Bandung regency, West Java), Media Journal of Animal Science and Technology, Vol. 25, No.. 2, August 2002, ISSN: 0126-0472, p.. 64. (2002)
Journal: Entrepreneurial Behavior Relationships With Breeders Sheep Breeders Group Productivity, Farm Journal Media Science and Technology, Vol. No. 25. 3: 71-108 December 2002, ISSN: 0126-0472, p.. 92 (2002)
Pocket Book: Agribusiness Management and Entrepreneurship, (2001)
Chapter: Voice Of Agribusiness Bogor Building Systems, ISBN: 979-95902-6-4 (2001)
Proceeding: Challenge and Prospect Paper and Pulp Agribusiness Development in Eco-labeling autonomy Region (2002)
Book: Social Economic Research. Proposal and Report (2002)
Book: Entrepreneurship and Small Skill Business in Agribusiness System (1999)
Article: Financial Institution Commitment in Agribusiness (

Bisnis dan Manajemen

) (1997)
Fermentation, a Biotechnology Alternative in Increasing Feed Quality Po

ultry Indonesia

) (1997)
Article: Commitment of Financial Institution to Agribusiness (

Bisnis dan Manajemen

). (1997)
Article: Agribusiness Human Resource in Globalization Era (

Bisnis Indonesia

) (1996)
Article: Modern Agribusiness Area in Supporting Region Development (

Kompas

) (1996)
Article: Growing Path in Facing Globalization (

Bisnis Indonesia

) (1996)
Paper: Career Planning (1995)
Article: Opportunities and Challenges Facing Free Trade of Small Employers (

Suara Pembaruan

) (1995)
Article: Agribusiness Perspectives in the Era of Industrialization (

Suara Pembaruan

) (1994)
Article: Equitable Agriculture with the spirit of self-reliance (

Suara Karya

) (1994)
Paper: Small Entrepreneur Development Strategy in PJPT II (1994)
Article: The Role of Television in Poverty Alleviation(

Suara Karya

) (1994)
Honors
Top Authors Writing Competition in the Framework of Agribusiness Master's Birthday IPB Agribusiness Management, "Agribusiness Indonesia Sustainable Development in an Era of Globalization: between the needs and opportunities"
Best Writers Cooperative Scientific Writing Contest, 1994, "Development Strategy for Small Employers in Long-Term Development Phase II".
Organization
Indonesian Society of Agricultural Economic (ISAE – PERHEPI) (2011)
Indonesian Amateur Radio Organization (ORARI) (2007)
Seminary, Symposium, and Panel Discussions
Socialization Entrepreneurship Development Program of Higher Education and Technical Information Proposal, DEPDIKNAS – IPB (2004)
National Seminar on "Mentoring Against Micro, Small and Medium Enterprises in Effort Community Empowerment for Poverty Reduction", Ministry of Agriculture (2003)
ISPI Conggress Period 2002-2006 "Empowerment in Development of Animal Husbandry Bachelor Based Regions in the Era of decentralization", ISPI (2003)
Interactive Dialogue "Empowerment Bachelor of Animal Husbandry building in Pemba-Based Regions in the Era of decentralization", ISPI (2003)
National Seminar on "Review of Integrated Livestock applicable Agribusiness Development in Southern West Java", IPB (2003)
Macro Food Policy, MMA Bogor. (2001)
National Agribusiness Development Policy, MMA IPB Bogor (2001)
Price Fertilizer and Food Need Self, IPB Bogor. (2000)
Prospect and Thickness, Development Agribusiness Pulp and Paper for Local autonomy and Eco-labeling (2000)
Are theoretical Basic and Empirical Evidence Corporate Farming Concept? (2000)
Agribusiness and Agropolitan Development, Instrument Support. Hilton, Jakarta. (1999)
Platform Parties about Agribusiness by Economic Development Paradigm. Le Meredien, Jakarta. (1998)
Workshop "NGO-University Linkages".  Pangrango, Bogor. (1997)
Commodity Market Development from Kanmon Commodity Exchange, Jepang. Hilton, Jakarta. (1997)
Bird Husbandry Development. APPI, Bogor. (1997)
Rural Economic Development. IPB, Bogor (1997)
Agribusiness Bank: in Need and Feasibility.  Biotrop, Bogor. (1997)
Agribusiness by Road to Empowering of Economic Community.  Shangrila, Jakarta. (1997)
Agribusiness in 2003.  IPB, Bogor. (1995)
Ministry of Agriculture Affairs Oration, "50 Years of Building a Modern Agriculture: Reflections, Challenges and Prospects". IPB, Bogor (1995)
Trade Cooperation Rural Development.  IPB, Bogor. (1995)
Modern Agriculture in Indonesia Created: Study from Arthur T. Mosher.  IPB, Bogor. (1995)
Bangkok Syndrome.  IPB, Bogor. (1994)
Cooperative Values ​​in an Era of Globalization. IPB, Bogor. (1994)
Opinion AT. Mosher 20 Year later.  IPB, Bogor. (1994)
Research Products of IPB 1990/1991.  IPB, Bogor. (1991)
Professional Experience
Lecturer at Agribusiness Department, Faculty of Economic and Management, Bogor Agricultural University (Now)
Chairman of The Cooperative Efforts of The Village Economy "Entrepreneurs Indonesia" (Now)
Managing Director of USESE Foundation (2000-2005)
Researcher Staff of Center Development Studies, Bogor Agricultural University (1993-2000)