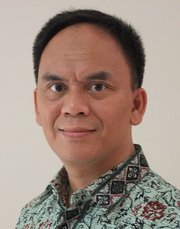 Yusman Syaukat
Faculty : Lecturer
Bogor Agricultural University
Office: Faculty of Economics and Management Bogor Agricultural University Jl. Kamper, Kampus IPB Darmaga-Bogor – West Java 16680
Phone/Fax: +62 251-8626520 / 8626631
Email: ysyaukatgmail.com
Currently: in Bogor
---
Expertise:

Professional Association:
Int. Society of Southeast Asia Agricultural Sciences
Indonesian Agricultural Economic Association
American Agricultural Economics Association
Specialization:
Agricultural and Resource Economics
Production Economics
Mathematical Economics and Programming
Education:
Doctor of Philosophy (Ph.D.) University of Guelph, Guelph Ontario, Canada (2000)
Master of Economics (M.Ec.) University of New England, Armidale, New South Wales, Australia (1991)
Diploma of Agricultural Economics (Dipl.Agr.Ec.) University of New England, Armidale, New South Wales, Australia (1990)
Bachelor (Sarjana Pertanian) Department of Agricultural Socio-Economics, Faculty of Agriculture, Bogor Agricultural University Bogor (1986)
Teaching Experiences:
Principles of Economics
Water Resource Economics
Land Resource Economics
Resource & Environmental Economics
Sustainable Economic Development
Local Economic Development
Production Economics
Mathematical Economics
Advanced Operation Researchat the Department of Resource and Environmental Economics, and Graduate School of Bogor Agricultural University (2000-present).
Dissertation and Thesis:
Syaukat, Yusman. 2000. Economics of Integrated Surface and Ground Water Use Management in the Jakarta Region, Indonesia. PhD Dissertation, University of Guelph, Ontario – Canada.
Syaukat, Yusman. 1991. Economic Analysis of Soil Erosion, Crop Rotations and Cultivation Systems at Narrabri, New South Wales, Australia. Master of Economics Thesis, University of Newe

ngland, Armidale, Australia.
Publications:
The Impact of Climate Change on Food Production and Security and its Adaptation Programs in Indonesia. Journal of ISSAAS Vol.17 No.1. 2011 – ISSN 0859-3132
Journal:The Impacts of Export Tax Policy on the Indonesian Crude Palm Oil Industry. Journal of ISSAAS Vol.15 No.2. 2010 – ISSN 0859-3132
Journal:Socio-Economic Assessment Of Organic Farming In Bogor, West Java, Indonesia. Journal of ISSAAS Vol. 14 No. 2. 2008 – ISSN 0859-3132