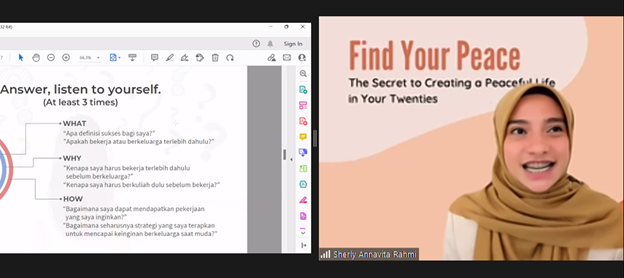 Webinar "Find Your Peace" dilaksanakan pada hari Sabtu, 10 September 2022 jam 09.00 – 11.00 WIB. Kegiatan webinar bertemakan "The Secret to Creating a Peaceful Life in Your Twenties" dengan narasumber Sherly Annavita Rahmi (Millenial influencer and Motivator) ini mengangkat isu terkait mental health yang bertujuan memberikan edukasi mengenai cara meningkatkan kesadaran diri dan mengelola kesehatan mental di usia 20-an untuk mendapatkan ketenangan dalam hidup.
Webinar ini diselenggarakan oleh Fakultas Ekonomi dan Manajemen yang berkolaborasi dengan BEM FEM IPB University khususnya Departemen Advokasi dan Kesejahteraan Mahasiswa dan didukung oleh Direktorat Kemahasiswaan dan Pengembangan Karir IPB University. Webinar dilaksanakan melalui platform Zoom secara daring dan diikuti dengan peserta yang beragam yaitu mahasiswa baik dari IPB maupun non IPB, Dosen FEM khususnya Dosen Konselor, Komisi Pendidikan dan Komisi Kemahasiswaan.
Semoga dengan terselenggaranya kegiatan webinar ini memperkaya soft skill dan wawasan civitas akademika di lingkungan FEM IPB Univesity sehingga tercipta sumberdaya yang unggul dan berwawasan tinggi.